If you take a look at the remote-friendly job listings and freelance gigs out there, you'll think that you have to be an expert web developer in order to become a digital nomad.
But what do you do if you don't have any technical skills?
Or the idea of learning how to code, just doesn't excite you at all?
Programming is an overrated skill.
There. I've said it. And I'm a software engineer who has been coding since I was a teenager.
It can take years of effort before you can make those big bucks as a programmer. And the best developers I've seen, through my hiring experience, love what they do — they aren't just driven by the money.
Besides, coding just for the pay can be soul-sucking work.
So what's the alternative? I suggest that you consider becoming a copywriter.
[well]
The very purpose of copywriting is to persuade. It is the basis of all advertising, promotion, publicity, public relations and marketing.
[/well]
What does Warren Buffet and Ramit Sethi both have in common?
[caption id="attachment_474" align="aligncenter" width="907"]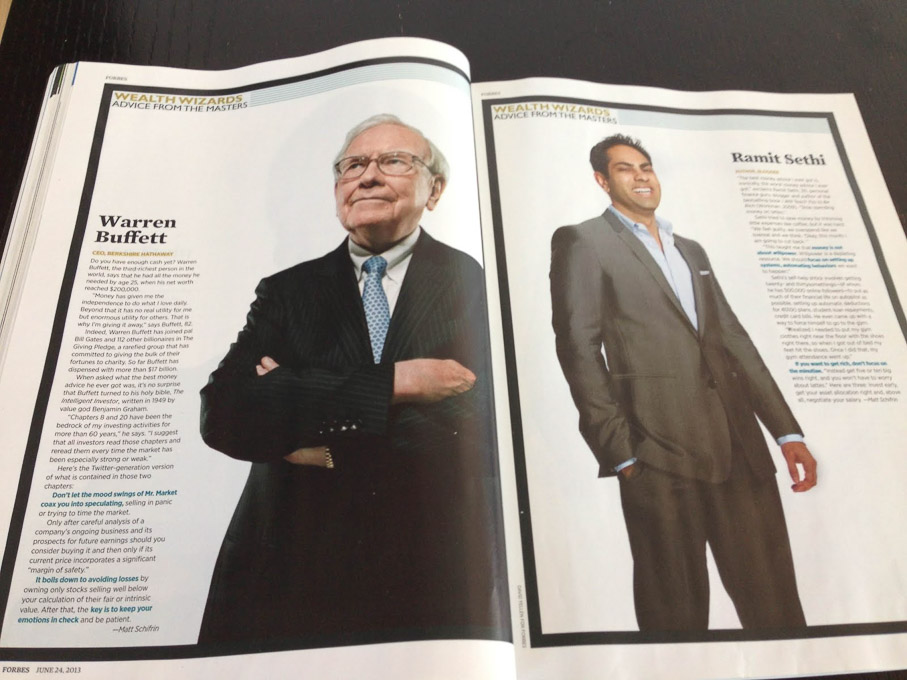 Warren Buffett and Ramit Sethi as featured in Forbes Magazine[/caption]
Warren Buffett is the most successful investor of the 20th century, and the third richest person on this planet.
Ramit Sethi teaches thousands of his loyal readers how to live a rich life — which includes being able to sell one of his online business courses for a price tag of $10,000 dollars.
They are charismatic men with an uncanny ability to engage people. And they are both world-class copywriters.
This is no coincidence.
To be a good copywriter you must know how to appeal to emotion. To expertly use the conversational tone. And to have a understanding of the human psyche.
Why you should consider becoming a copywriter.
Copywriting is a skill that can continue to provide value for a lifetime, across multiple careers. Or be a career in itself.
Not only can you make a six-figure income as a freelance copywriter, but copywriting can help you to…
Start your own business or improve the one that you're already running.
Get yourself that dream remote job that you want by being able to write a killer resume, and through understanding how to appeal to the wants of your employer.
Win more business in almost any type of freelance work.
Increase your influence through social media.
Negotiate discounts on Airbnb rentals, sell just about anything online, and so much more.
Because to repeat what was written earlier…
"The very purpose of copywriting is to persuade"
Learning how to become a copywriter…
The good news is that copywriting is more science than art, so you don't have to be "creatively gifted" to excel at it.
And learning from the best is easier and cheaper than ever now:
Copy Hackers offers a free e-mail course on how to become a copywriter.
Udemy provides several copywriting courses that come with a no-questions-asked, 30 day money-back guarantee.
[well]
Udemy Discounts
Be sure to wait for a Udemy promotion to come around after creating a free account, as many of the courses that go for $200 or more are routinely discounted below $35 dollars.
[/well]
You can also learn copywriting through blogging. Pick a subject that you're either experienced with or eager to learn about. And choose a subject that people actually care about.
So how do you know if there is an audience for what you want to write about? Just search online to see if an active community is existence. A good place to start is with Reddit. Then get specific as possible about who your blog audience will be.
Or you can learn on the job, which brings to me to…
How you can make money through copywriting.
If you want to make money and learn the skill of copywriting at the same time, then you should freelance through Upwork.
Upwork, formally known as oDesk and Elance, connects paying clients with freelancers. Over $1 billion in contracts pass through Upwork annually. But Upwork's aim is to increase this figure to $10 billion within 6 years.
When browsing Upwork, the low paying jobs and high competition could appear daunting. But there are known secrets to succeeding. And you can find high quality clients that pay well by standing above the noise.
For actionable techniques on how to start off successfully as a complete copywriting beginner on Upwork, read this article:
How to become a copywriter quickly on Upwork using the "Crystal Ball Technique"
Just know that for anything that's worth pursuing, it will take hard work and focus.
Three months is a realistic time frame for making decent money, if you spend 15 - 20 hours a week focused on becoming a professional copywriter.
And when it comes to the personal and financial freedom that can be gained through learning the craft of copywriting, three months isn't very long at all.