Just recently, I spent literally over 6 hours opening my snail mail. Why 6 hours, you ask? Because I hate weeding through junk mail, bank statements, and shiznit I just don't care about. So for over 2 years I let it pile up! Out of the hundreds of letters I just went through, how many do you think really mattered to me? 2-5% at most. One thing is certain now, whether I'm traveling or not, I never want to deal directly again with snail mail. I will explain how I am making this happen, through my detailed review of the virtual mail service I am now using, Traveling Mailbox.
Virtual Mailboxes
So what is a virtual mailbox? It is a physical mailing address created and managed by a third party. Every time you receive something in the mail at this personal mailbox, you'll get notice of it through an e-mail, which typically contains a scan of the outside package or envelope.
I originally wanted to pay a personal assistant to do this for me, by periodically checking a P.O. Box that I would give him/her access to. But the world has advanced! There are a dozen virtual mail providers out there, and the quality of service and features can vary quite a bit between the competition. In general though, for a certain price, you can have your mail scanned, shredded, or forwarded. Earth Class Mail, which is recommend by Tim Ferris (Author of The 4-Hour Workweek), is probably the most popular of these services, and has been around for 7 years. While I'm sure a quality service, they are probably the most expensive option. And since so little of my snail mail actually matters to me, I will not pay top dollar if I don't have to. Top dollar being around $700 a year for what services I need. Considering this, I decided to chance trying a newer, cheaper virtual mail service provider…
Traveling Mailbox
As a virtual mail provider, Traveling Mailbox offers comparable service and features as Earth Class Mail, for a fraction of the cost. I have been personally using it since July. From my experience, I'll break down the benefits and some of the setbacks associated to the different services that is offered through Traveling Mailbox.
Mail Delivery
This is the core service provided by virtual mail. You setup a mailing address, and when your mail arrives, you are notified through e-mail. With Traveling Mailbox, starting at $15 a month, you are given a choice of a physical mailing address in California, New York, Florida, Texas, Nevada, or North Carolina. These are not PO Boxes, so FedEx, UPS, and all other couriers will deliver to the mailing address. An important fact to know, as most other virtual mailing services charge a premium for anything other than a PO Box.
When mail is delivered to your virtual mailbox, you will be notified via e-mail of this. You'll need to log into their website in order to view a photo of the envelop or package that was received. Be aware that when dealing with anything other than standard letter sized pages, they may not be able to scan your mail.
Mail I sent, and how it was displayed by the Traveling Mailbox service: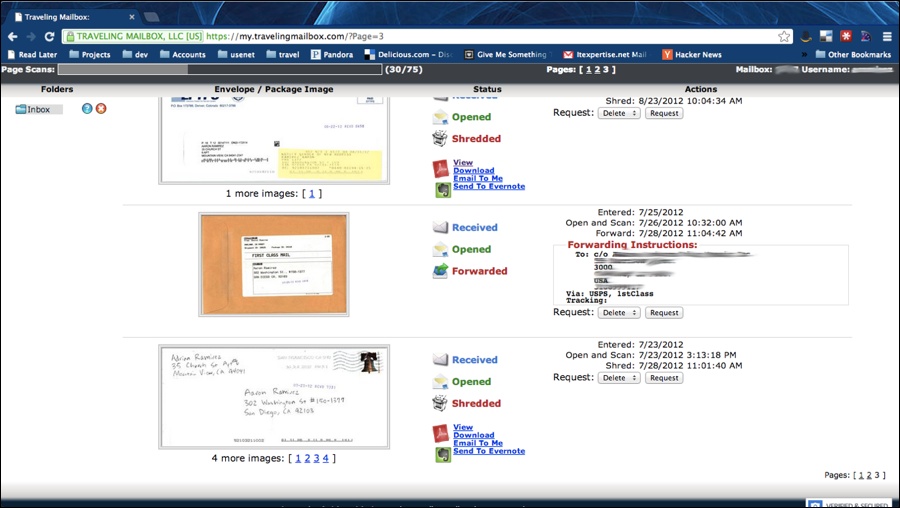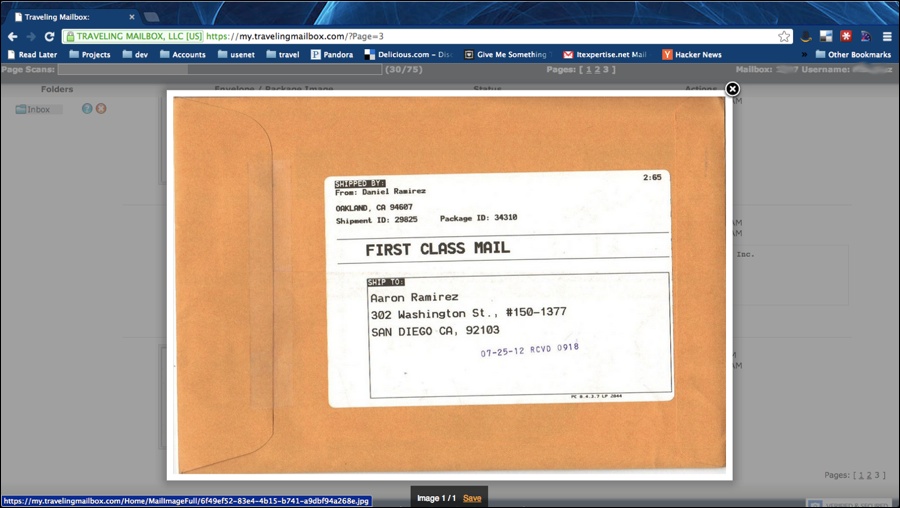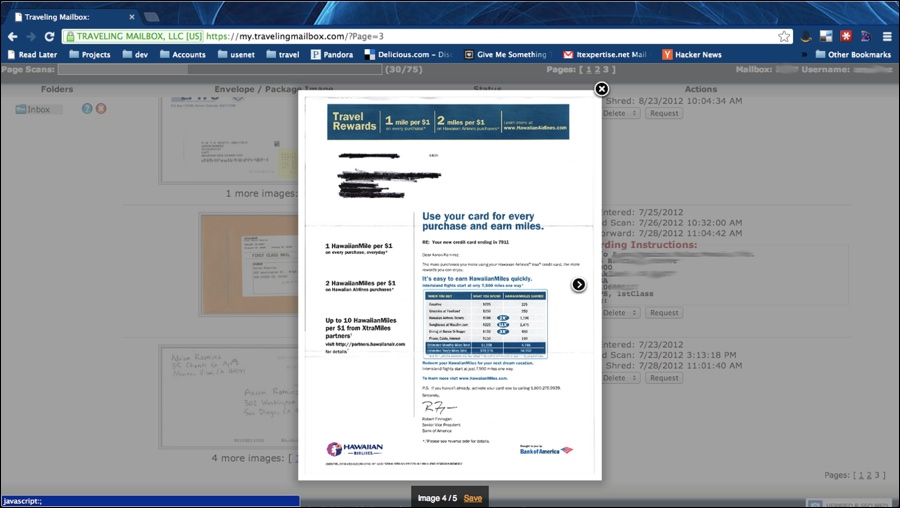 Mail I had sent, but not scanned due to the irregular size of the contained documents: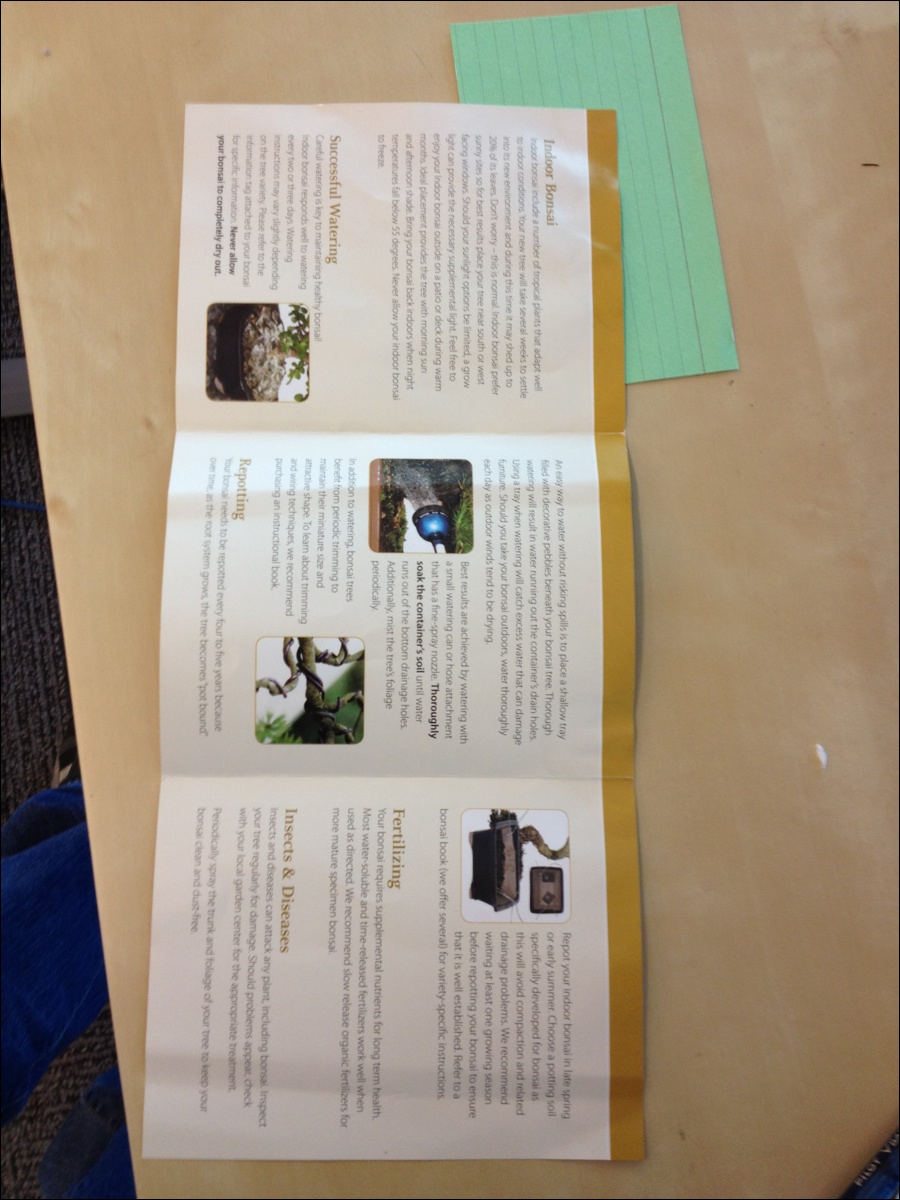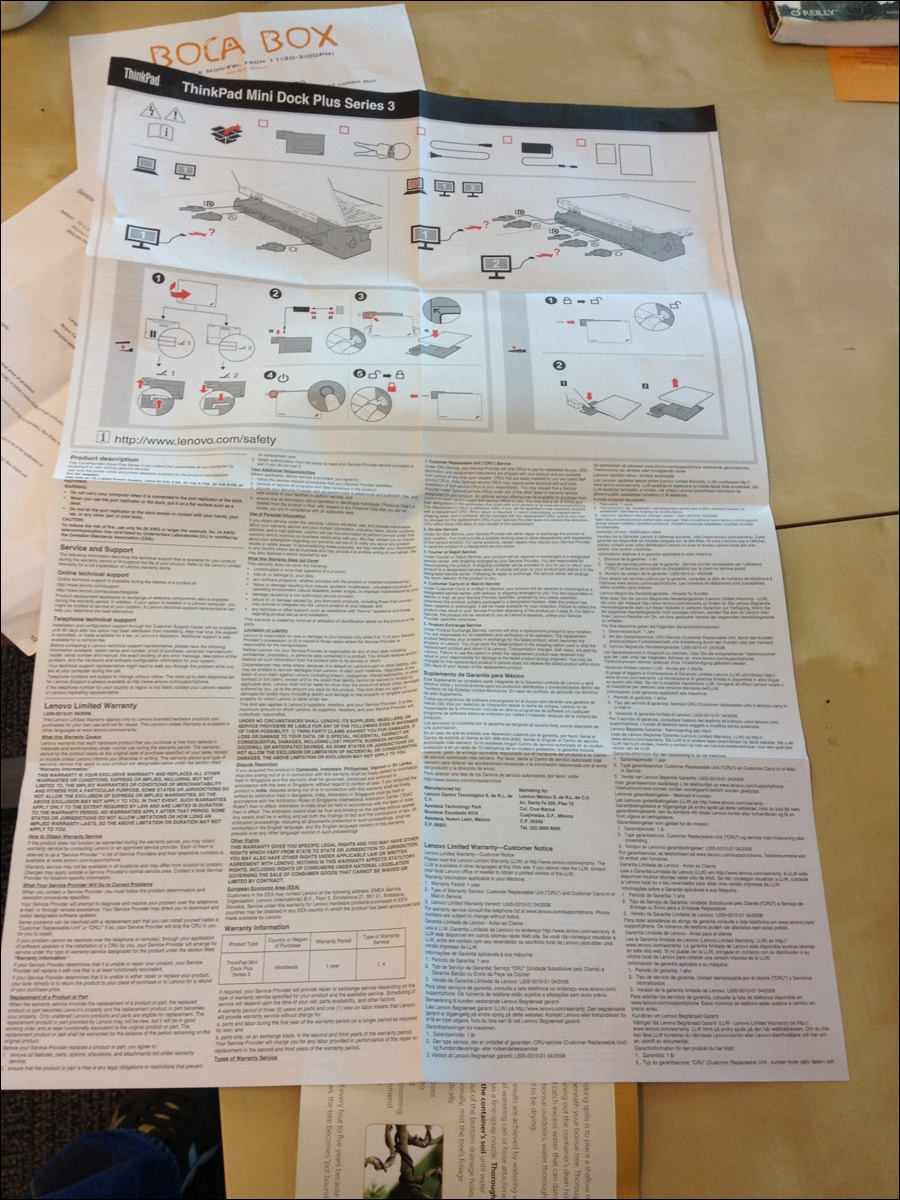 It is also worth mentioning, that a cool feature they recently started to offer, is the ability to have your scanned e-mail sent to your Evernote account: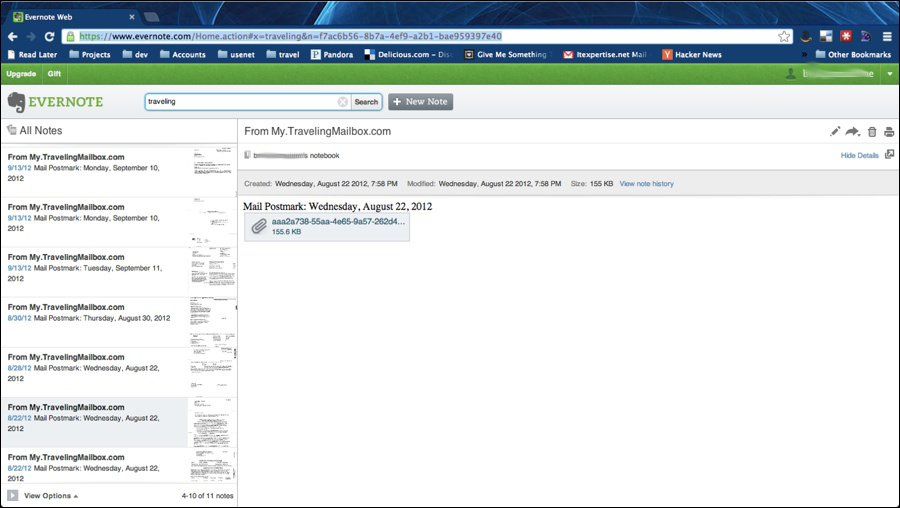 Expect delivery delays
While not mentioned explicitly through their website, Traveling Mailbox does all processing of mail from an east coast facility in North Carolina. What this means, is if you have mail sent to a west coast address, expect an added 1 week delay before being notified of mail delivery.
Mail Forwarding
As mentioned before, packages, and not all letters can be scanned my virtual mail service. You may want to have physical possession of certain mail, such as original legal documents. The great benefit of Traveling Mail is that you can forward mail in bulk to almost any address in world, for the cost of postage plus a $2 dollar service fee. The few letters I had forwarded usually were sent out within a business day of the request.
Check Deposit
If you happen to have checks sent to your virtual mailing address, a common service offered is deposit of these checks to your bank account. Traveling Mail charges $4.50 for the first check, and $1.00 for each additional check when done in bulk. A useful service, especially when using virtual mail for business purposes. Please note that you must e-mail them directly with your bank account information in order to have this done. For security reasons, sending such information by e-mail is not a good option.
Setup
Setting up your virtual mailbox involves a little more than just filling out an online registration. In order for a third party to handle your mail, such as Traveling Mailbox, you'll need to mail/fax a notarized USPS 1583 Form, which is accessible through their website. All in all, it is a 1-2 week process, and will cost around $10 dollars to complete.
Security
Nearly all the virtual mailing services I looked at claimed high security. Traveling Mailbox itself claims a security guarantee, but doesn't really mention what exactly the guarantee is. Nonetheless, they screen the employees who handle mail before hiring, and have 24/7 facility surveillance. For me personally, my physical mailbox wasn't very secure to start with, so I'm willing to take my chances with this service.
When it comes to online security, I honestly do not feel very confident in the Traveling Mailbox website. I build websites for a living, and I already know they do not go by some of the industry standards for handling online security. My only real advice, if you choose to go with their service, is to use a randomly generated strong password for your account. For the price though, I'm personally willing to take these security risks.
Conclusion
Since using Traveling Mailbox for their virtual mail service, I have never been so on top of my mail. Filtering through junk mail is very simple, and when I have someone else handling the opening of my mail, I tend to read it more often. I highly recommend that you free yourself from the mailbox, and go with a virtual mail service. And if you are doing extended travel, it is absolutely the best option if your snail mail is important to you.