Now that it's been more than 2 years since I first set off to travel the world, one of the most frequent questions that I get from people is "how do you afford it?" Well, there's certainly more than a single tactic that I use to travel richly for a small fraction of what people expect, but my biggest cost saver is my ability to pay very little or nothing for my international and domestic flights.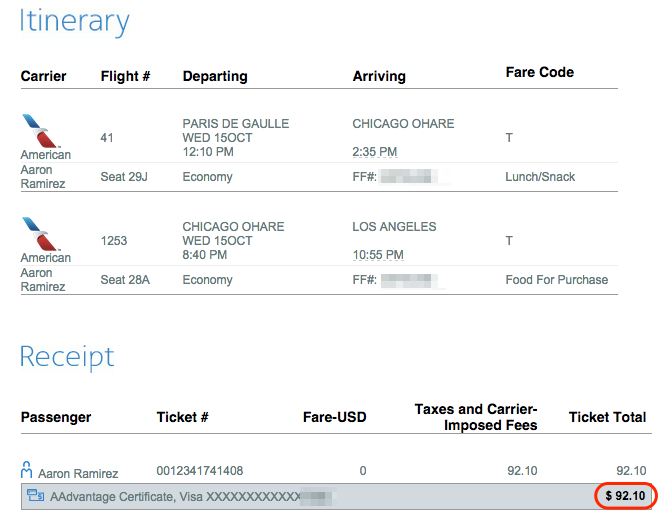 I was able to get this fairly last minute non-stop flight from Paris to LA for under $100, thanks to travel hacking.
I do this through "travel hacking"—which for me, largely involves acquiring points and rewards through credit card promotions, that can be used to completely fund or to bring the cost of flights and accommodation down to a small fraction of what's expected.
I originally wrote about how I acquired more than 250,000 frequent flyer miles before I even started my journey. Those points have allowed me to visit over 40 countries throughout 5 continents. Booking a flight continues to be my lowest financial obstacle when it comes to travel, and I'll explain just how this can be.
Travel Hacking has Improved My Credit Score
In mid 2012, I earned my first 250,000 miles through 6 travel credit cards that I was approved for. I've since cancelled 4 of those cards, due to an average yearly renewal fee of $90 that made little sense for me to pay. My reported income has also dropped 75%. But the unexpected happen, my credit score actually went up 59 points (760 to 819).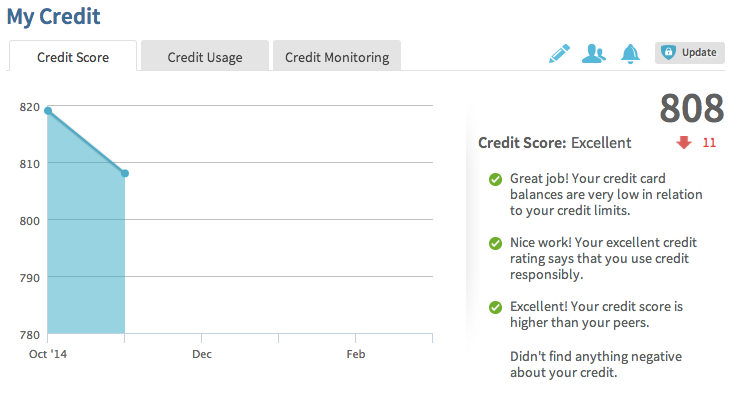 After applying for 3 new credit cards, my credit score dropped 11 points down from 819. No biggie, because I will most likely recover those points within 2 year's time.
Before You Cancel that Credit Card:
Ask to have the annual fee of the card waived, or for the card to be converted to a no-fee alternative under the same company.  This has worked for me more than once.
Knowing that travel hacking through credit card promotions didn't harm my credit in the long term, I immediately applied for 3 new travel cards within a week's time. Cause well, I sure as hell didn't have anything to lose. I ended being approved for all of the cards I applied for, including a business credit card, despite the fact that I haven't filed for my LLC yet. Between these 3 cards, I will earn more than 125,000 points through their promotional offers. Enough points to easily allow me to circumnavigate the world once more.
Free Credit Report Resources
Here is a great article on recieving no hassle, free credit scores (this is different from free credit reports, which do not include credit scores): Five Ways To Get a Free Credit Score (No Trials!)
Not All Points are Created Equal
If you are seeking to capitalize on credit card promotions to fuel your travels, understand that not all award points and frequent flyer miles are of equal value. For instance, I can book a relatively last minute direct flight from Paris to Los Angeles for 20,000 points with my AAdvantage miles, while it can easily take 40,000+ Avios (British Airways), plus $500 in surcharges and taxes to go from London to New York. But on the other hand, those same Avios can often send me across Europe or the US for under 9,000 points, when traveling regionally.
If you are new to Travel Hacking and can qualify for a Chase Sapphire Card or an American Express Starwood Preferred Card, I recommend their point systems over all others. This is because of how versatile they are. You can redeem them for a direct airfare purchase through their online travel portal, or convert their points over to your preferred frequent flyer program—sometimes at a higher multiple than just 1:1.
Finding the Right Credit Card Promotions
Cardsfortravel.com does a good job of announcing the latest travel card promotions, but do understand that they make money from referrals and the best award cards are not always listed on their website. So I recommend that you also give the big credit company websites a direct visit as well. Here are the biggest three: www.citi.com, creditcards.chase.com, www.americanexpress.com.
Your Mileage May Vary
I want to be quite open about my credit score and finances, to better inform inspiring travel hackers out there. But understand that there are never any guarantees when it comes to these credit card promotions. There are also many promotions that require a minimum spend of up to $5,000, and/or a signup fee of $100 to $500 dollars. And while I have over 12 open credit cards, I carry over ZERO of my statement balance. That's because those interest rates can greatly overshadow any cost savings from traveling with points.  If done correctly and responsibly though, travel hacking can award you a tremendous amount of freedom to see and experience what the world has to offer. [well]
How has travel hacking worked for you?
Let myself and others know by posting a comment below. [/well]